---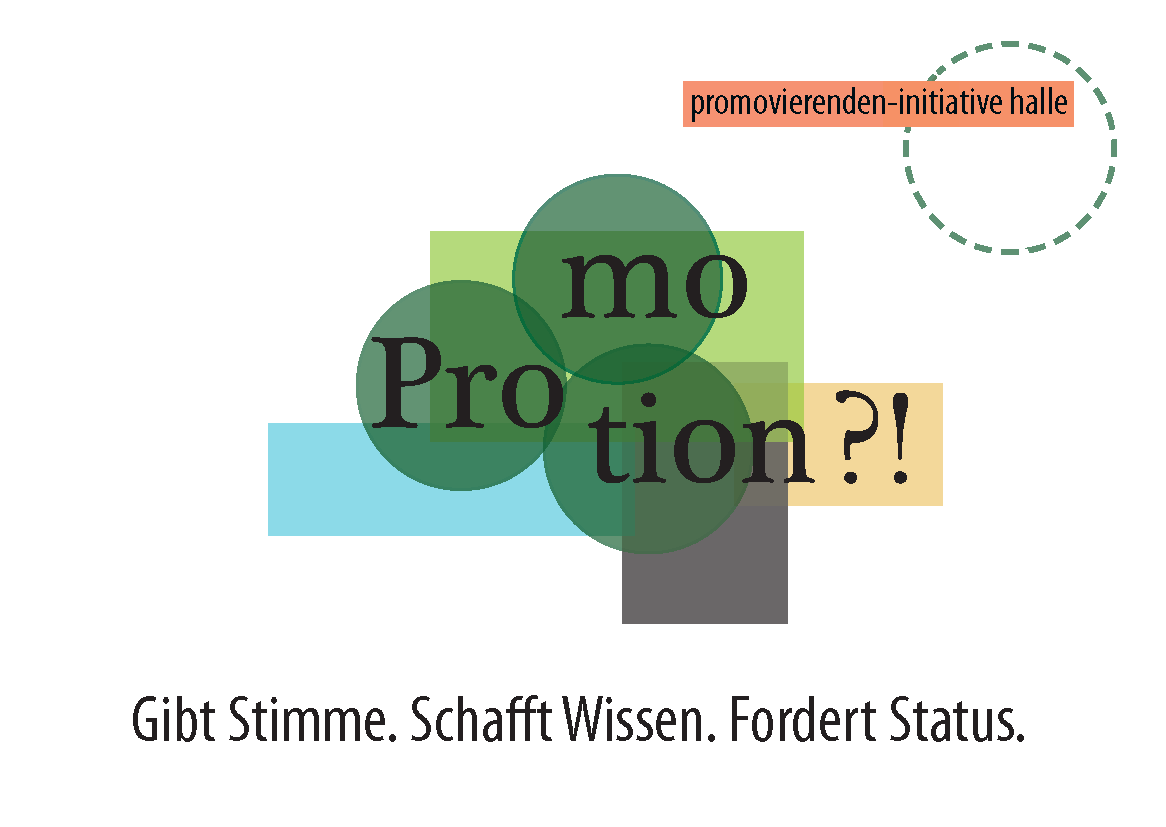 ---
---
---
Contact
Martin-Luther-Universität Halle-Wittenberg
Promovierenden-Initiative Halle
promovierendeninitiative.ha...
postal address:
Martin-Luther-Universität Halle-Wittenberg
Promovierenden-Initiative Halle
06099 Halle (Saale)
---
---
Login for editors
---
PhD Student Initiative Halle
Liebe Doktorandin, lieber Doktorand,
du bist Mitarbeiter oder Promotionsstipendiat? Deine Promotion wird gut betreut oder du bist schlecht beraten? Du fühlst dich und deine Interessen (nicht) vertreten und möchtest dich engagieren?
Dann komm zur Promovierenden-Initiative Halle (ProInit Halle). Wir engagieren uns hochschulpolitisch für dich, kämpfen für gute Betreuung und beraten dich bei rechtlichen, sozialen und anderen promotionsbezogenen Problemen. Diese ehrenamtliche Arbeit können wir aber nur leisten, wenn wir viele Mitstreiter sind.
Fühl dich also herzlich eingeladen, unsere Orga-Sitzungen zu besuchen. Immer am letzten Donnerstag im Monat von 18 bis 20 Uhr treffen wir uns im Besprechungsraum im Stura (Universitätsplatz 7). Danach ab 20 Uhr gehen wir gemeinsam zum Promovierendenstammtisch. In unserem Newsletter erfahrt ihr vorher, wo es hingeht.
Was wollen wir?
Wir fordern die Einrichtung eines ständigen Promovierendenrates (ProRat), der bei allen Belangen der Promovierenden gehört werden soll. Hier können wir unsere Interessen bündeln, die nicht immer vom Personalrat oder dem StuRa abgedeckt werden können. Wir fordern eine gute Betreuung für Doktorand_innen, die man in einem ersten Schritt über eine verpflichtende Betreuungsvereinbarung erreichen kann. Wir fordern (ganz utopisch) einen gesetzlich fixierten Status für Doktorand_innen, zumindest aber eine Zuordnung zum Mittelbau. Denn auch viele von uns lehren und wir alle leisten mit unseren Dissertationen Forschungsarbeit. Deshalb wollen wir institutionell an die MLU angebunden werden.
Es bewegt sich was!
Wir haben die Diskussion um eine verpflichtende Betreuungsvereinbarung zwischen Betreuer und Doktorand_in angestoßen. Wir haben darauf hingewiesen, dass für einen demokratisch gewählten ProRat Wählerlisten existieren müssen - doch bislang kennt die MLU die Zahl der Doktorand_innen überhaupt nicht. Es gibt lediglich 'begründete Schätzungen'. Nun sollen alle Doktorand_innen in einer digitalen Doktorand_innenkartei erfasst werden. Die Novellierungen des Hochschulgesetzes von Sachsen-Anhalt und des Wissenschafts Zeitvertrags Gesetztes stehen dieses Frühjahr an. Die Zeit ist günstig, sich in die Diskussionen um die Zukunft der Promotion in Halle, in Sachsen-Anhalt und auch Deutschland einzubringen. Tatsächlich gibt es bereits u.a. in Leipzig, Jena und Freiberg Doktorand_innenvertretungen. Die Mittelbau-Initiativen Leipzig und Dresden erwachen. Wann, wenn nicht jetzt sollten wir etwas tun?
Was wir in den nächsten Sitzungen besprechen wollen:
* Planung einer Vollversammlung aller Promovierenden
* Promotionsvorträge weiterführen
* Politische Arbeit intensivieren
* Erstellung des Leitfadens für Promovierende (Stichwort Willkommenskultur)
* Erstellung einer Satzung für uns
Mit den besten Wünschen,
Frank Ursin
Sprecher der Promovierenden-Initiative Halle
Sprecher des AK ProRat des StuRa der MLU Halle-Wittenberg
promovierendeninitiative.halle@gmail.com
Gibt Stimme. Schafft Wissen. Fordert Status.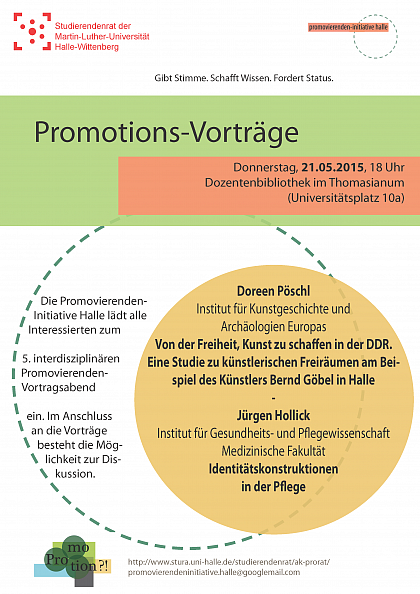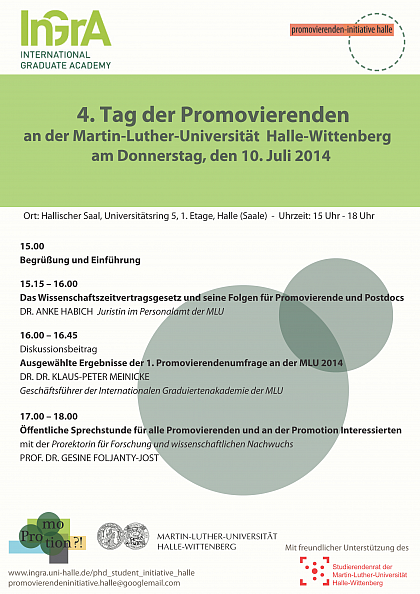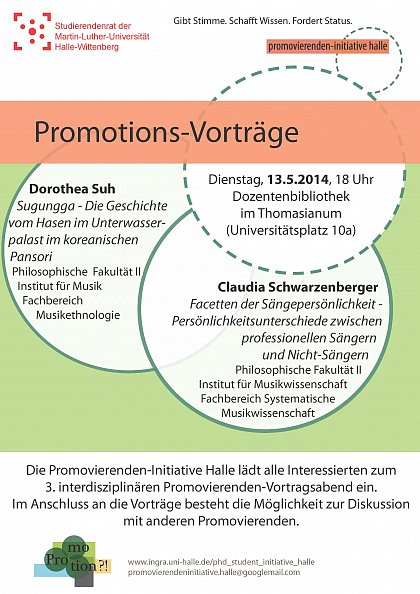 "We want a PhD Student Board"
An Interview with Frank Ursin, the spokesman of the PhD Student Initiative Halle, in the online magazine of scientia Halensis.
Presse-Mitteilung der Promovierenden-Initiative Halle zur beabsichtigten Streichung der Mittel für die Landesgraduiertenförderung
Die Promovierenden-Initiative Halle wendet sich mit einer Presseerklärung gegen die von der Landesregierung Sachsen-Anhalt geplante Einstellung der Landesgraduiertenförderung ab 2014.
The PhD Student Initiative Halle is a collaborative network of doctoral candidates at Martin Luther University Halle-Wittenberg (MLU). We are a group of young scholars from the humanities, the natural and the engineering sciences, whose dissertation work is carried out in a variety of ways, ranging from individually supervised projects to structured and non-structured post-graduate programs.
Currently, there is no legal representation of PhD students at Martin Luther University that addresses our needs and requests in various university councils and committees. As a point of departure, we came together to start our initiative in November 2011, in order to give voice to PhD students' demands and to improve the conditions in a wider context for doing a PhD at Halle University.
At the moment, we are focusing on the following working areas:
The conclusion of an agreement between the PhD student and his or her supervisor can help to ensure a thorough supervision of the PhD project and to preclude dissensions from an early stage onwards. Dissertation agreements are increasingly implemented in academic environments throughout Germany, and we strive to introduce such a tool as a mandatory arrangement at our university, as well. The "WG Dissertation Agreement" makes efforts to present a template of a dissertation agreement to MLU executive committees. Both the PhD student and his or her supervisor should sign the agreement.
The "WG PhD Representation" works towards the establishment of a regular and democratically elected PhD representation at MLU. It closely cooperates with the Prorectorate for Research and Young Academics (Prorektorat für Forschung und Wissenschaftlichen Nachwuchs).
The election of an official PhD representation requires that the university is able to secure that all potential persons entitled to vote can be contacted. Furthermore, it adds to the networking opportunities among PhD students if a comprehensive mailing list is available. The International Graduate Academy (InGrA) kindly allows us to use the existing mailing list to disseminate information. The "WG Communication" is determined to find ways that can help to improve communication among PhD students across departments, faculties, and institutes.
We are looking for fellow PhD students to join our initiative.
All PhD students are invited to participate and to share their ideas and their concerns, in order to advance and improve the current situation. You can contact us via email, using the following address:
promovierendeninitiative.halle@googlemail.com
Doreen Pöschl (Deputy Spokesperson)
Frank Ursin (Spokesperson)
Translation: Claudia Ulbrich
---
---