---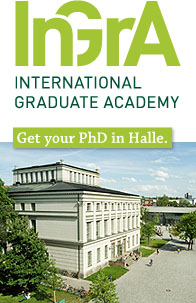 ---
---
---
Contact
Internationale Graduiertenakademie InGrA
phone: +49 345 5521746 (Sekr.)
phone: +49 345 5521747 (Geschäftsführung)
fax: +49 345 5527098
office@ingra.uni-halle.de
Universitätsring 19/20
06108 Halle (Saale)
postal address:
Martin-Luther-Universität Halle-Wittenberg
Internationale Graduiertenakademie InGrA
06099 Halle (Saale)
---
---
Login for editors
---
International Graduate Academy InGrA
Welcome to the International Graduate Academy (InGrA) of Martin Luther University Halle-Wittenberg
Doing a doctorate means doing research. Under this guiding premise, the International Graduate Academy supports all doctoral students at MLU as a central, university-wide institution (since 2008).
It pursues the following goals:
Further development of the framework conditions for doctoral studies and promotion of a productive research environment for doctoral students
Qualification and career development of doctoral students by promoting soft skills
Promotion of cooperation, networking and visibility of doctoral students
Establishment and networking of structured doctoral programs
Tasks of the International Graduate Academy (InGrA) as a central institution:
Organization of interdisciplinary qualification and career workshops
Advice on proposal submission, establishment and implementation of structured doctoral programs
Further development of the curriculum and networking of structured doctoral programs
Advice for doctoral students
Information on dealing with the corona virus
All face-to-face lectures of the university in the winter semester 2021/22 will take place in compliance with the so-called 3G rule. Thus, only persons (students and employees) who have been vaccinated against the SARS-CoV-2 virus or have tested negative or have recovered may participate in these events, regardless of the group size. There are no upper limits on the number of people and the requirement to maintain a minimum distance. The event rooms can thus be used to their full seating capacity.
There are no special regulations within the university for official trips in Germany and abroad due to the Corona pandemic. As before, there is a requirement to critically examine the necessity of each official trip in the current situation.
Please check
---
About InGrA (in German only)
Structure of doctoral study programmes (in German only)
Advisory Service

---

Martin Luther University Halle-Wittenberg is a member of the German University Association of Advanced Graduate Training GUAT .
---
---