---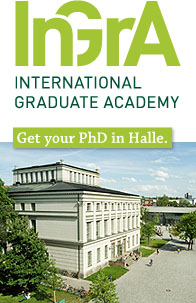 ---
---
---
Contact
Internationale Graduiertenakademie InGrA
phone: +49 345 5521746 (Sekr.)
phone: +49 345 5521747 (Geschäftsführung)
fax: +49 345 5527098
koordination@ingra.uni-hall...
Universitätsring 19/20
06108 Halle (Saale)
postal address:
Martin-Luther-Universität Halle-Wittenberg
Internationale Graduiertenakademie InGrA
06099 Halle (Saale)
---
---
Login for editors
---
International Graduate Academy InGrA
Welcome to the International Graduate Academy (InGrA) of Martin Luther University Halle-Wittenberg
The International Graduate Academy (InGrA) of Martin Luther University Halle-Wittenberg was founded in 2008 to ensure and increase the quality of methodical education for doctoral candidates.
The Academy supports doctoral candidates up to the successful completion of a doctoral thesis and entrance into a professional career. The Academy offers a disciplinary and trans-disciplinary qualification program. Additionally, the Academy welcomes an increasing number of international as well as female doctoral candidates and supports their supervisors.
InGrA works across all Faculties, particularly with regard to the
Promotion of the establishment of structured doctoral programmes
Association of all structured doctoral programmes consolidated in InGrA
Organizing and awarding of scholarships for doctoral candidates related to the structured doctoral programmes with financial support from the University as well as the State of Saxony-Anhalt.

Martin Luther University Halle-Wittenberg is a member of the German University Association of Advanced Graduate Training GUAT .
Information on dealing with the novel corona virus
Summer semester classes at MLU began on 6 April 2020 with numerous digital courses. Summer semester 2020 will continue to be a digital semester. Classroom teaching and in-person exams can only take place as an absolute exception and must follow strict guidelines. The university is also gradually opening up parts of key facilities, such as the University and State Library (ULB) or the University Archive.
Please check
---
About InGrA (in German only)
Structure of doctoral study programmes (in German only)
Advisory Service

---
---