---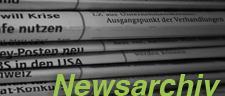 2015
| | | | | | |
| --- | --- | --- | --- | --- | --- |
| Jan | Feb | Mar | Apr | May | Jun |
| Jul | Aug | Sep | Oct | Nov | Dec |
---
Newsarchiv: News
Jahr 2012
Returning Experts Programme (REP)
The Returning Experts Programme (REP) at the Centre for international Migration and Development (CIM) in Frankfurt offers a series of workshops open to students, graduates and professionals who are interested in working in their home country or region. You shall have plenty of time to exchange with your fellow participants. Advisors of CIM (who live in the relevant countries) will also participate in the seminar. They all have studied in Germany, are very familiar with the local labour market and are now supporting returnees in their job search. Individual advisory is thus normally available during the seminar.
About PhD-Stammtisch
More information about PhD-Stammtisch you will find in the new issue of the journal scientia halensis 3/2011 (in German only).
New Board of Directors
The rector of Martin Luther University, Prof. Dr. Udo Sträter, appointed Prof. Foljanty-Jost (acting director), Prof. Behrens, Prof. Jäger as well as Prof. Tietje as the new board of InGrA-directors.
The new statute for InGrA has become law
The new statute for the International Graduate Academy (InGrA) has become law after publishing in the Official Journal of the University on February 1.
ELFI - Electronic Information for the Promotion of Research 2011
The University has subscribed to the ELFI database (Electronic Information for the Promotion of Research) for 2011.
Jahr 2011
Speech of Prof Kreckel on occasion of the plenary session on November 22 (in German only)
Doctorate and young academics
Germany in international comparison
PhD Christmas Party on December 8
Dear PhD students and Post-Docs!
We are still waiting for snow, but don't want to wait to get together in the spirit of Christmas! Therefore, it is our pleasure to invite you, your colleagues, friends and families to join our PhD Christmas Party!
Date: Thursday, December 8, 2011 at 7.45 p.m.
Venue: Mensacafé "Burse zur Tulpe", Universitätsring 5, Halle (Saale)
Beside tasty food, hot wine punch and other drinks, a colourful programme will be presented by the participants of our German courses. Furthermore, international music will incite us to celebrate and dance! The participation is free of charge.
We would be pleased to welcome you to our party, and wish you all a wonderful Christmas season!
Your PhD Network Team
Call for Papers - Workshop des Promotionsstudienganges Sprache - Literatur - Gesellschaft
Am 31.1. und 1.2. 2012 wird in Halle ein vom Promotionsstudiengang 'Sprache – Literatur – Gesellschaft' organisierter Workshop zum Thema: Autobiografischer Stil in der Gegenwartsliteratur. Narrative Funktionen und Identitäts-Konstruktionen der Figur des Ich-Erzählers, stattfinden. Exposés von max. 1 Seite werden bis zum 5. Dezember erbeten.
Seiffen - Christmas in Erzgebirge on December 3
Dear PhD students, Post docs and partners,
Christmas in Germany without the wooden art from the Erzgebirge is hard to imagine. These famous wooden Christmas figures come from the idyllic Seiffen near the Czech border. This location is also affectionately called "toy village". During our trip we will learn not only about the historical development and current significance of this toy-art. We will also experience the relations of this art with ore mining industry and everyday life of the 19th century. After our tour of the village, toy museum and exhibition workshop we will refuel our zest with a meal, before we jump into the fray of the traditional Christmas market. By early evening we shall have a bus full of Christmas spirit and impressions to take back to Halle.
Seiffen - Christmas in Erzgebirge
Date: Saturday, December 3, 2011
Time: 7.00 a.m.
Meeting point: Exit Ernst-Kamieth Straße, Main Train Station Halle (Saale)
The participation fee is 15,- € per person. If you are interested in joining us, please register by November 28, 2011 at phd.network@ingra.uni-halle.de. The number of participants is strongly limited. Therefore, you might register as soon as possible!
Best regards,
Elena Trawkina, Christiane Heß, and Regine Brandt
First Congress for PhD Students at Faculty of Medicine
The Faculty of Medicine is organizing the first congress for PhD students which will be held in November, 25.
Program

Poster
INDIAN CULTURAL CELEBRATION: DIWALI 2011
WHEN? Saturday, 29 Oct, 2011, 12:00 noon till evening (~6:00 pm)
WHERE? WEINBERG CAMPUS, Kurt-Mothes-Saal, Leibniz Institute of Plant Biochemistry(IPB), 06120, Weinberg 3, Halle(Saale), Germany
Dear Friends,
I heartily invite you all for Celebrating one of our biggest festival Diwali (the festival of Light), organized by Indian Students Association(Halle) supported by International PhD Network, MLU & IPB, which will be held on 29th Saturday, October 2011 (12:00 noon till evening ~6:00 pm), at Kurt-Mothes-Saal, Leibniz Institute of Plant Biochemistry(IPB), 06120, Weinberg 3, Halle(Saale), Germany.
Please update your presence and willingness to have Indian lunch (only for 6€) by this doodle link http://www.doodle.com/k9urcun3rm2b9cbv latest by Thursday(12 noon), as we need to make arrangements for the same.
Kindly find the program schedule attached.
Wish to see you all :)
N.B: Lunch Coupons (6 €) & free snacks coupons will be available in the reception desk on-site.
SECURITY: Celebration is happening in Leibniz-Institute of Plant Biochemistry, Kurt-Mothes-Saal, therefore participants are on their own risk and should follow IPB safety rules and regulations for security reasons. Kindly do not roam around in the Institute. For any information you can ask Security volunteers.
Have a nice day !
Regards,
Halle Indian Students Association,
Dhurvas Chandrasekaran Dinesh, PhD Student
Workshop "Empowerment für die Promotion in den Gesundheitsfachberufen" am 13. Oktober
Der Hochschulverbund Gesundheitsfachberufe HVG e.V. veranstaltet in Kooperation mit der Internationalen Graduiertenakademie am 13. Oktober einen Workshop zum The­ma "Empowerment für die Promotion in den Gesundheitsfachberufen".
---
---